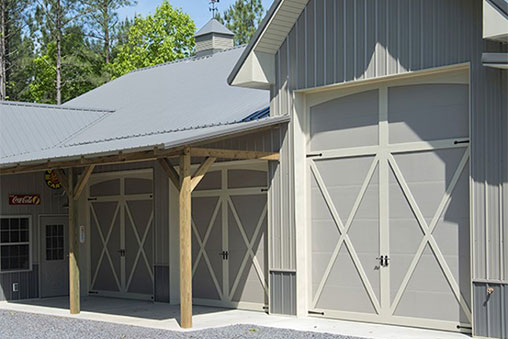 Panel-Loc Plus
Panel-Loc Plus™ metal roofing gives residential, agricultural, and light commercial homes and projects the protection of steel, with an attractive appearance. This style of metal roof features an extra striation on top of the rib to give it superior durability and protection against leaking. Panel-Loc Plus™ is available in 3 qualities: Standard, Prime, and Ultra.

Key Points
Employs a drain channel that minimizes leaks from wind, rain, and snow.

Wide fastening surface for easy application.

Unique lap groove hides the overlap, giving a smooth, clean appearance.
M-Loc
The M-Loc™ metal roofing panel is similar to our R-Loc™ panel in gauge, strength and resistance to the most severe weather conditions with a rib style more suitable to smaller trims and buildings. This traditional, heavy duty commercial panel has long served customers with lasting durability in commercial-type applications.
Key Points
M-Loc™ is a structural roof and wall panel that can be installed directly over purlins or joists.

Recommended for 1 : 12 or greater roof slopes

Available in 26 gauge painted or 26 and 24 gauge acrylic Galvalume®.
Horizon-Loc
Horizon-Loc™ allows you to have a beautiful roof without exposed fasteners, giving you the benefits of a standing seam roof for less cost. The panel uses a snap together system allowing for rapid installation without mechanical seaming, resulting in a less expensive labor cost than traditional standing seam panels. It is ideal for residential roofing and light commercial applications applied over solid decking.  Its durability ratings may lower insurance rates to save you even more money.

Key Points
Installs over solid decking with 30lb. felt paper or equivalent.

Available in painted AZ50 Galvalume® or AZ55 acrylic coated Galvalume®.

Matching trims and accessories in both hidden or exposed fastener style.